Krista Baldwin has Top Fuel racing in her DNA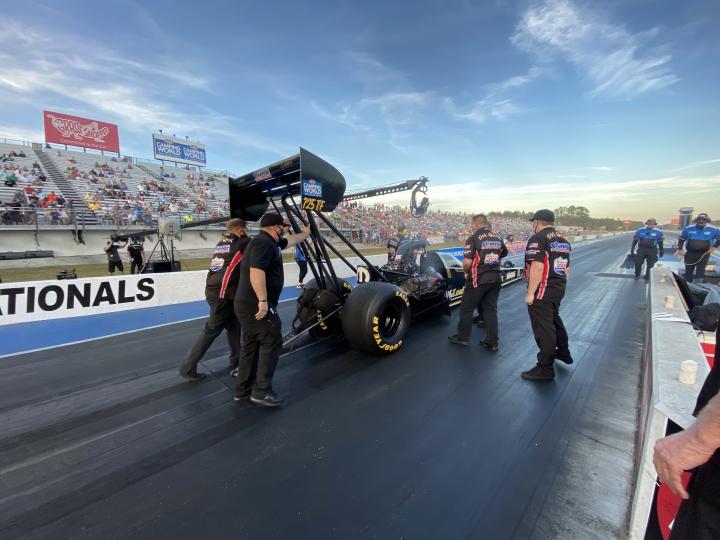 The human genome contains three billion base pairs of instructions, and every single one of them in this third-generation racer is codded for speed.
From her temporary office at FTI Performance in Deland, Fla., Krista Baldwin spent the start of the 2021 Amalie Oil NHRA Gatornationals race week editing photos for the company's social media channels. Baldwin, the daughter of Bobby Baldwin, and granddaughter of "the Greek" Chris "the Greek" Karamesines, was keeping busy and staying focused on the work at hand.
Was she excited? "Yes. I'm so excited," she said. Was she ready? "Absolutely." Was she born to do this? "Well, I haven't done anything else in 27 years, so yeah, it feels like I was."
Nitromethane DNA
Technically, Baldwin doesn't remember the first time she sat in a dragster, but it may be more appropriate to say she doesn't remember life without having sat in one. Her memories are structured around her experiences at dragstrips. She's been part of a race team as long as she's been part of her family—there's really no distinction. Some of her first memories are of her dad and grandpa racing each other."My dad and my grandpa would tow back to the pits after a run and I would sit on their laps and wave to all of the people."
She remembers with vivid detail when Doug Herbert blew up on the starting line of the 1999 Auto Club NHRA Finals, because "my dad was racing him," and the six-year-old Baldwin was in the tow vehicle right on the other side of the wall.
While Gainesville isn't new to her, coming in a Top Fuel dragster is. "This is a much bigger responsibility," said Baldwin, " I need to make sure I'm able to pilot this dragster the right way. I don't want to go out there and make some rookie moves, which I might still do, but the pressure is on because these cars are so much more delicate."
A/Fuel vs. Top Fuel
When asked if the differences between her Top Alcohol dragster and her grandfather's Top Fuel dragster went beyond just the horsepower, she said, "You have to be on your toes when you're driving this car. It does not forgive at all." Baldwin says that "in the alcohol car you can think and react," with the Top Fuel car, you "follow your instincts and your gut, and then analyze later."
11,000-HP Crew
With more power also comes the need for a bigger crew to solve the 300-mph puzzle. "On the alcohol team, it used to be just me and Anthony [Dicero] and one other person at the race," she explained. With the nitro car, she's leveraged her grandfather's team with consulting from Dom Lagana. Dicero and Jake Sanders (from her A/Fuel car) are still by her side to keep her in the right mindset. She's only been in this car for her licensing runs, so she's developing as a Top Fuel driver with the world watching.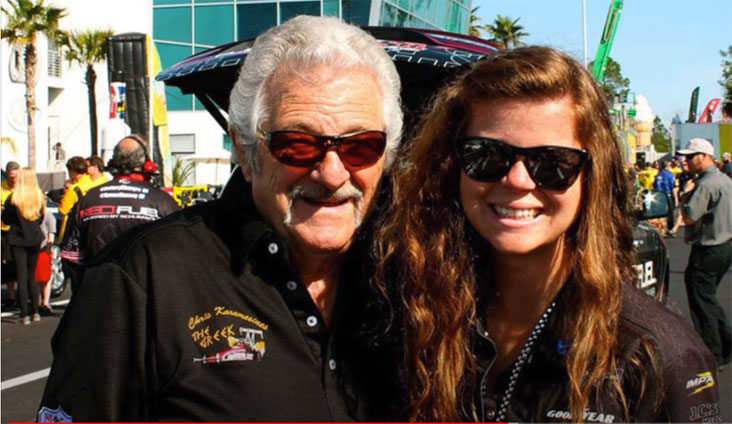 With centuries of collective Top Fuel experience in her corner, Baldwin says she's gotten advice from her grandfather, the Lagana's, and her boss (Funny Car racer) Paul Lee. What do they have to say?
"Dom reminds me to concentrate and stay focused on what I am doing," said Baldwin, "that the car has the same controls as the A/Fuel dragster I know so well. He also reminded me to 'live in the moment—this is a big weekend.'"
The Greek echoed that sentiment telling Baldwin she needs to "cherish every minute of this weekend because you're only going to do this once in this fashion."
With her family and friends steeped in nitro, what perspective can Lee add? "Paul always has good advice whether I'm asking him about driving, financing the car, or just working on the equipment," said Baldwin. "And he's gracious enough to lighten my duties and make sure his team can operate without me because this weekend I'm going to be a little busy."
What's a successful 2021 Gainesville going to look like for her? "If it goes great," said Baldwin, "I'm gonna qualify for the field, I'm going to run a 3.90, and I'm not gonna blow anything up."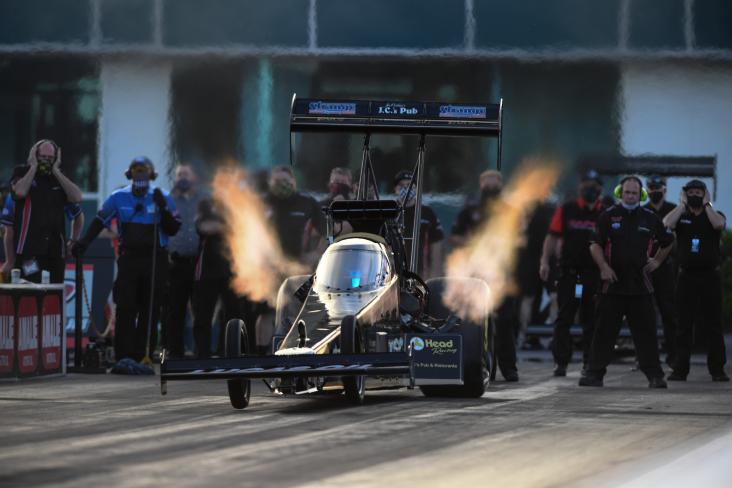 To catch all the action of the 2021 AMALIE Motor Oil NHRA Gatornationals in person you can buy your tickets HERE, livestream all of the racing action like this on NHRA.tv, and be sure to watch the full NHRA on FOX broadcast on FS1.
SOURCE: NHRA (03/12/2021)
https://www.nhra.com/news/2021/krista-baldwin-has-top-fuel-racing-her-dna
Share post: